Packaging Design | Illustration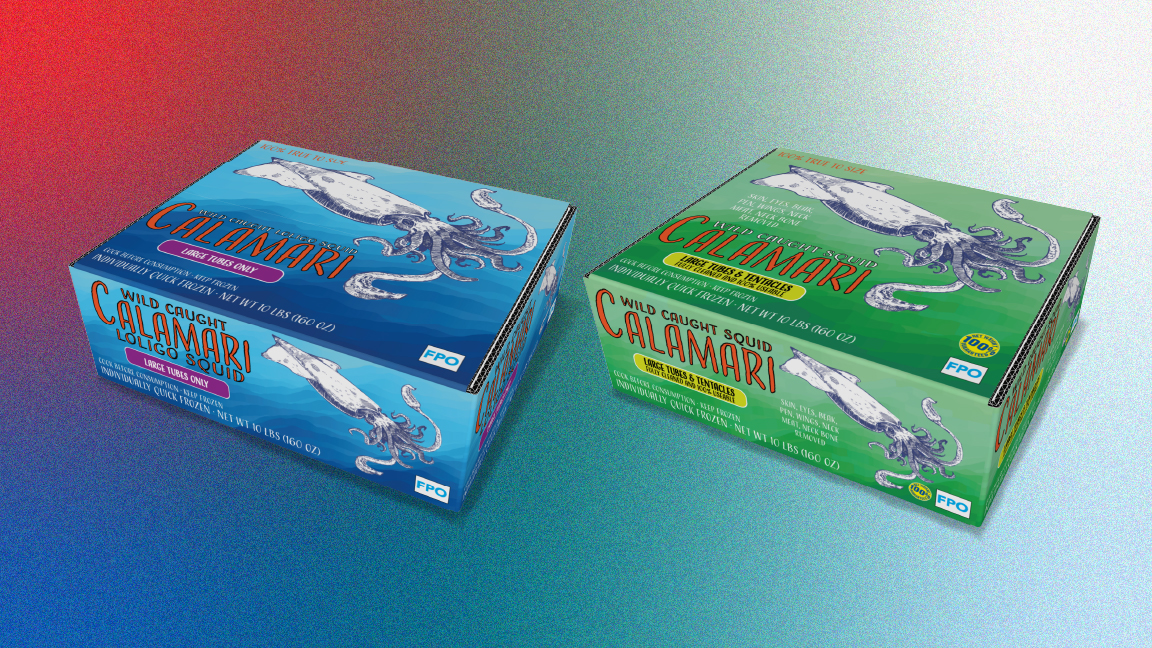 Jintown Enterprise Limited specializes in supplying high quality seafood products in private labels and its own brand. Aevin Chiu reached out to us to help solve a problem for one of his largest US based partners, a national wholesale cash and carry foodservice supplier headquartered in Whitestone, New York called Restaurant Depot. Jintown is one of many approved frozen squid suppliers for Restaurant Depot and has been producing and packing their industry leading true-to-size spec of squid for over a decade. All of Restaurant Depot's approved plants pack the same unique spec but all use their own brand, often times the same brand they use to pack competitor products with more flexible specs. This can be confusing for customers, especially customer who have biases towards certain brands based on previous competitor shops. Customers have no way to know that every box of squid found on Restaurant Depot's shelves meets the company's stringent requirements, regardless of brand. Because a competitor might carry the same brand, customers also are unable to differentiate the items. So Aevin made the difficult decision of investing in a solution his competitors would be able to benefit from as well. He called on us to create a scalable packaging design system that could be distributed to all approved Restaurant Depot plants. Enabling the company to keep the same box on the shelves year-round, no matter what plants they might use.
We were initially tasked with developing designs for their standard squid spec that could easily be scaled to their other line items by Jintown's internal design team.

We began our discovery phase by visiting multiple Restaurant Depot locations and some competitors to give us some background going into our discovery workshop. We were able to work directly with VP of purchasing, Mark Hannon, during the workshop, giving us really great insight into the company, customers and product.

One of the most unique findings from our discovery phase was the request NOT to develop a brand or use one of their private label brands for this project.

Many of the items they sell are commodities, or raw ingredients. Restaurant Depot likes to lean in on the purity of their ingredients and put the product front and center in lieu of a traditional brand mark. While unconventional, this isn't new to us, we've done it before.

After the workshop, we presented our findings in a discovery brief which included a few stylescapes for the client's team to choose from. Stylescapes are a carefully collected combination of images, textures, typography, and colors to communicate a certain look and feel for the brand.

We put together 3 options for the Client, each one unique but created with Restaurant Depot's customers and brand identity in mind. We find that naming our stylescapes also helps the Client better understand why the elements on the page have been chosen and combined.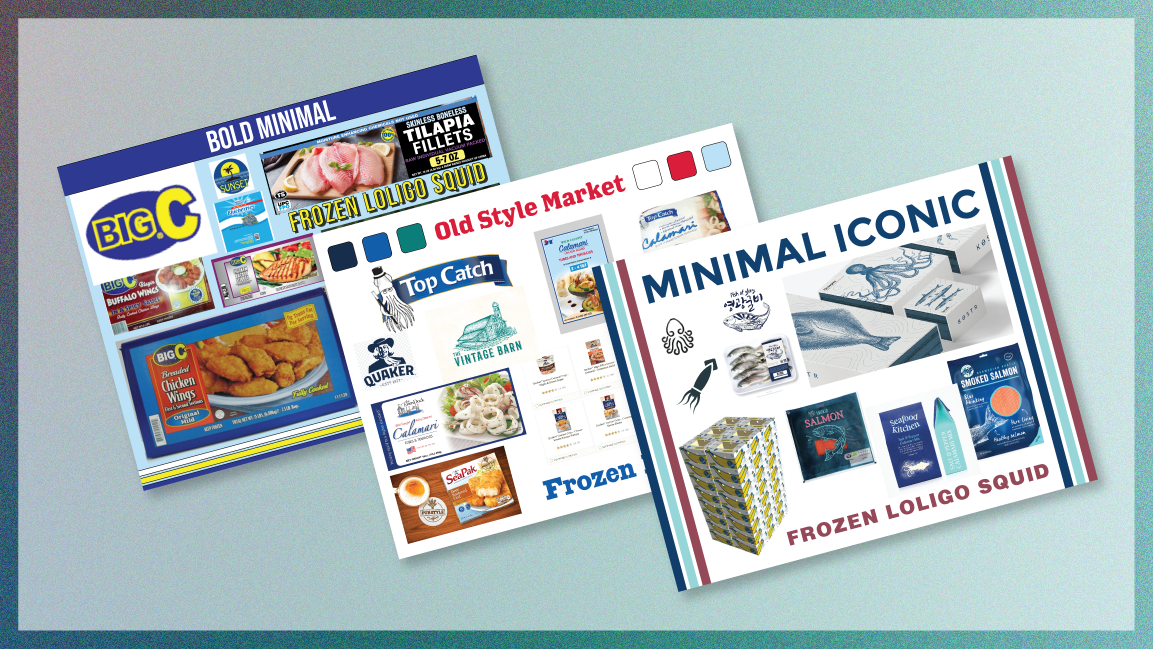 Once a stylescape was approved, we were ready to move into the design phase, we brief our artists on all the information from the discovery session and start the ideation process. We were fortunate enough to collaborate with talented illustrator Nick Harran, who worked hand in hand with Jose on the design.
Once the designs were developed and approved by the Client, we were ready to hand off the files and go to print. But, expanding the designs proved to be too time consuming for Jintown's design team and they rehired us to scale the design system to their other items. While it was challenging to apply the same design system to a wide range of box sizes, we were able to execute the new designs with no hiccups.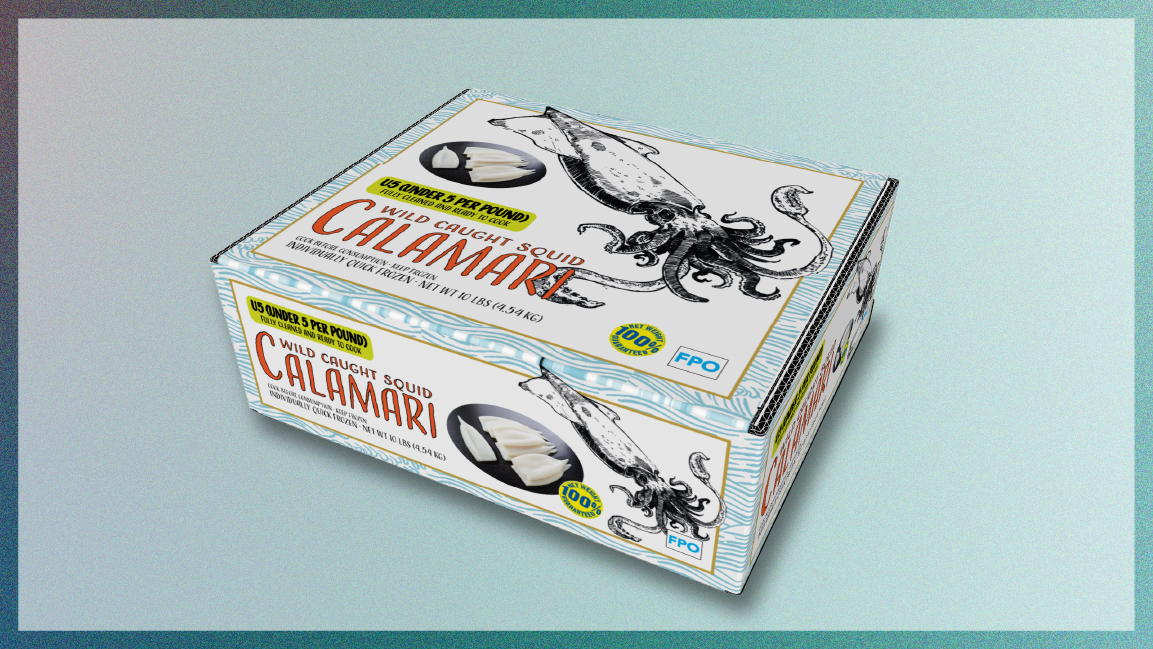 We were able to maintain the look and feel of the line even when dealing with other species of squid with different attributes to highlight.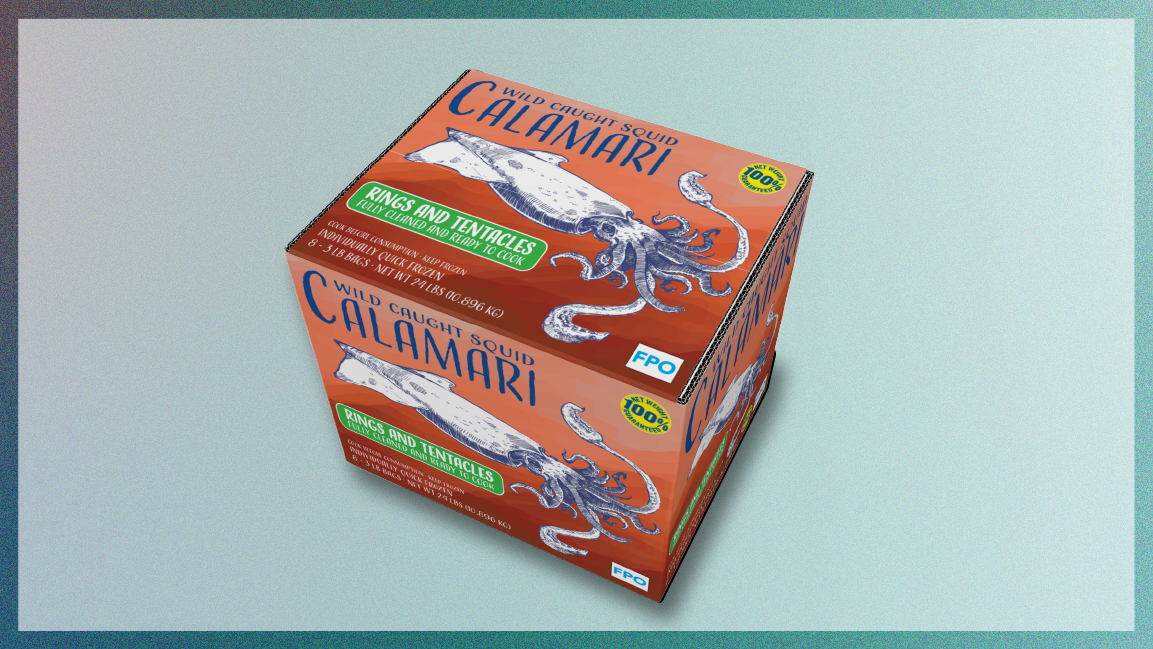 Jintown was able to go to print within weeks of closing the project and their standard squid pack hit the shelves a few months after that. Restaurant Depot has seen more consistent sales on their squid items and both companies are currently working on getting the rest of the line on the shelves in 2022.
After reflecting on the challenges Jintown's internal design team had scaling the design, we decided to add packaging guidelines to our file delivery on all future packaging design projects. Check out an example here.